MEH SUFF! WINTER-FESTIVAL 2024
Founded in 1997 in the Karelian city of Joensuu, Insomnium first gained recognition in 2002 with their wintry debut "In the Halls of Awakening". Quickly building on this with fierce death/doom juggernaut "Above the Weeping World" (2006) or melancholic masterpiece "One for Sorrow"(2012), the Finns surprised everyone with their sublimely beautiful, achingly forlorn "Argent Moon" EP in 2021, only to shed their skin once more."We have found our own thing and that trademark sound, but yet we don't want to keep repeating ourselves and make the same album over and over again," Niilo Sevänen underlines. "With every new member we have evolved a bit since all these incredibly talented musicians have brought their own magic along. If someone thought that we have grown soft with Argent Moon EP", he impishly grins, "I think 'Anno 1696' shows that there is the same old spirit left."
With "Anno 1696", Insomnium take us into a world woven of sorrow and last crumbling vestiges of hope, of wrath and morbid lullabies,an album relying on the strengths of their beloved trademark sounds and a new sense of grandiose, melancholic storytelling.
Welcome to 1696. Welcome to hell.
Abbath is a Norwegian black metal band founded by Olve Eikemo, better known as Abbath Doom Occulta, who was previously a member of the legendary black metal band Immortal. Inspired by acts like Kiss, Motorhead, Manowar, and Bathory, Abbath released their debut album in 2016, following Immortal's dissolution due to legal issues.
With the help of King Ov Hell on bass, Per Valla on guitar and vocals, and Creature on drums, Abbath made their debut at Tuska Open Air in 2015 before releasing their self-titled debut album on Season of Mist. The band underwent several changes to their lineup before recording their second album, «Outstrider,» which featured Ukri Suvilehto on drums, Raud on guitar, and Mia Wallace on bass.
Abbath changed their lineup again for their third album, «Dread Reaver,» which included Suvilehto on drums, Ole Andre Farstad on guitar, and Frode Kilvik on bass. The album, released in 2022, includes a cover of Metallica's «Trapped Under Ice» and showcases Abbath's uncompromising approach to black metal.
Despite the controversies that often surround the genre, Abbath has managed to maintain a loyal fanbase due to their unique sound and electrifying live performances. With a dedication to pushing the boundaries of black metal, Abbath continues to be a driving force in the world of extreme music.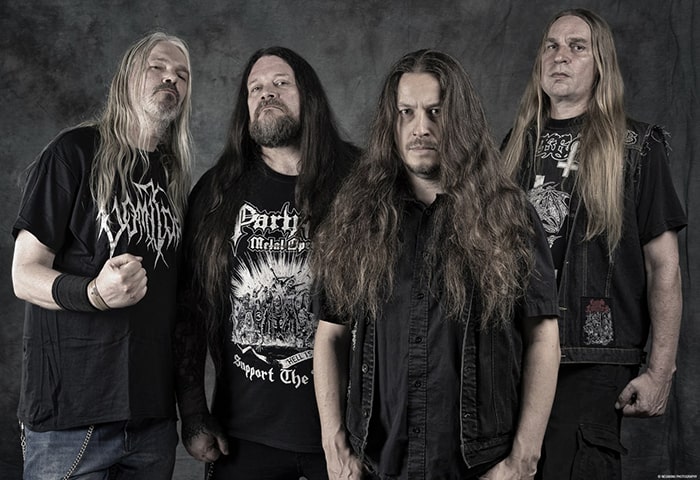 After an extended hiatus begun at the dawn of the millennium, ASPHYX reunited in 2007 and demonstrated a newfound passion for the art of doom-laden death metal. With talismanic vocalist Martin van Drunen leading the charge, the Dutchmen have released a trio of universally acclaimed records – Death…The Brutal Way (2009), Deathhammer (2012) and Incoming Death (2016) – while further cementing their reputation as one of the most riotous and explosive bands in the metal underground. Coalescing around a stable line-up for the first time in many years, the ASPHYX of 2021 is a finely-honed and fired-up beast, ready to decimate the competition and bludgeon the rest of us with riff after gruesome riff.
Recorded during lockdown, the band's tenth studio album Necroceros is manifestly heavier and more vicious than anything they have released before. Partly inspired by the horrors and frustrations of the pandemic era, Necroceros is also an outright celebration of ASPHYX's genre-defining sound. The band's current incarnation – Martin van Drunen, guitarist and chief songwriter Paul Baayens, bassist Alwin Zuur and drummer Stefan Hüskens – have clicked into a higher gear this time around, capitalising on a surfeit of free time to deliver their finest record yet.
As with its predecessor, Necroceros speaks volumes about the strength and focus of the ASPHYX line-up today. Paul Baayens' seemingly endless arsenal of devastating riffs is simply undeniable: whether it's the breakneck savagery of short, sharp ragers like opener The Sole Cure is Death and the snotty, tongue-in-cheek Botox Implosion, or gruelling, atmospheric dirges like the monolithic Three Years of Famine or the monstrous closing title track, Necroceros is a self-evident master class.
Deafening proof that the last 12 months have conjured a few positive results along the way, Necroceros is a murderous masterpiece for the never-ending age of death. After all, death comes to us all in the end.